Paddle Boarding Ontario: Top 9 Dreamiest Destinations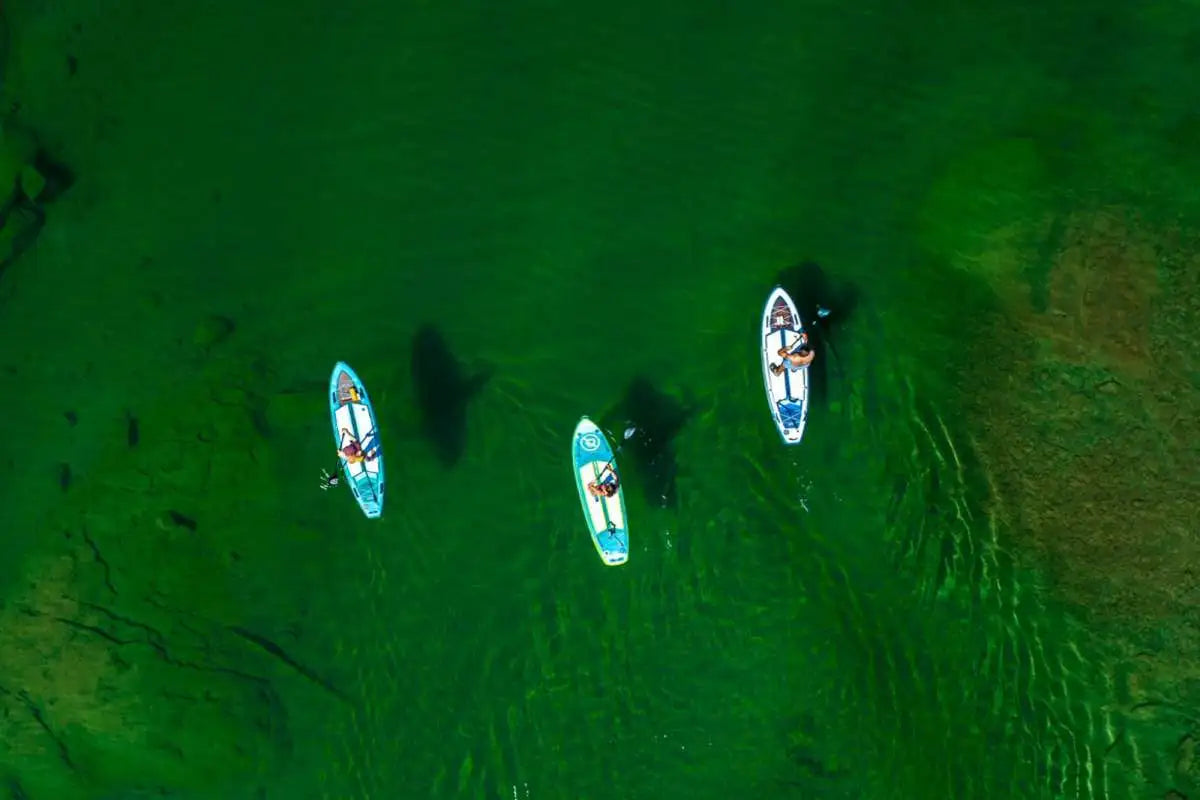 Ready to make your paddle boarding Ontario dream a reality? Grab your gear and join us as we explore the city's most enchanting SUP destinations. From tranquil provincial parks to lively harbors and hidden gems, we've got you covered.
The Spectrum of Ontario's Paddle Boarding Locations
Ontario, the jewel in Canada's crown, is a haven for paddle boarding. It boasts diverse landscapes and water bodies, offering a spectrum of paddle boarding experiences that make it a dream destination for every paddle boarder.
Natural Wonders: Paddle Boarding in Ontario's Provincial Parks
Ontario's provincial parks are a true sanctuary for those seeking nature's serene embrace. The province's natural beauty is perfectly captured in these parks, making them ideal locations for excursions.
Algonquin Provincial Park
Ontario's oldest and most famous park invites you to glide across its pristine lakes, lush forests, and vibrant wildlife. It's an ideal spot for multi-day SUP trips, with over 2,400 small lakes to explore.
The park's three largest lakes are Lake of Two Rivers, Lake Opeongo, and Cedar Lake, approximately less than 58 square kilometers in size.
Killarney Provincial Park
Next, paddle your way in Killarney Provincial Park. The crystal-clear waters of George Lake, framed by white quartzite mountains, offer an awe-inspiring backdrop for a SUP adventure.
Don't forget to catch the sunset for it is a sight to behold.
Bon Echo Provincial Park, known for its towering cliff faces, is a must-visit. Mazinaw Rock, a 1.5-kilometer sheer rock face adorned with ancient indigenous pictographs, will bring you a truly unforgettable experience.
Urban Escapes: City-based Paddle Boarding Opportunities
For those nestled in the city, fear not. Ontario provides an exhilarating contrast to the peaceful parks.
Toronto Islands are a quick escape from the city. The islands are a cluster of many small islands just off the city's coast, offering both calm lagoons and challenging open waters for all paddle boarders. All while being treated to a fantastic view of Toronto's skyline.
=> Here is: Where you can paddle boarding in Toronto
The Ottawa River courses through the heart of Canada's capital and offers another unique urban adventure. From peaceful paddles to adrenaline-pumping whitewater challenges, the Ottawa River caters to all skill levels.
Hamilton Harbour is nestled on the western tip of Lake Ontario, another hidden urban gem. It offers a serene paddle boarding escape amidst the city's bustle.
While you're there, keep an eye out for the historic lighthouse and abundant waterfowl. They're quite a sight to see.
Hidden Gems: Lesser-known Paddle Boarding Locations in Ontario
In search of off-the-beaten-path SUP locations? Ontario holds secrets that promise unique and breathtaking SUP experiences.
This river is steeped in history. It was once traveled by fur traders and explorers and known to the indigenous Ojibwe as the "Rivière des Français."
Paddling through the Canadian Heritage River, you can admire its vast network of channels, calm water stretches, and rugged landscape. The whole experience progresses with an ever-changing backdrop, the ultimate paddle boarder's dream.
This lake lies just an hour north of Ontario and is the fourth-largest lake in the province. Its clear blue waters offer a tranquil paddle boarding experience away from the crowds. Its landscape varies from sandy beaches to rocky outcrops, sometimes even quaint cottages.
On a calm day, its surface is like a mirror, reflecting the open blue sky. While paddling, you'll feel the gentle lapping of the waves against your board and the soft breeze on your skin.
The island is the world's largest freshwater lake island, situated in Lake Huron. It's studded with more than 100 beautiful lakes, several tranquil bays, and unique topography perfect for SUP adventures.
Adding to that allure is the area's rich indigenous culture. You'll see evidence of this vibrant culture in the form of petroglyphs etched into the rock faces. On a good day, you might even get invited to the local events and celebrations.
Can You Paddle Board in the Winter in Ontario?
Yes, you can! However, winter paddle boarding in Ontario requires proper gear and precautions:
Specialized Gears: Some cold-weather SUP gear won't disappoint. A good-quality wetsuit or drysuit keeps your core temperature regulated, and neoprene gloves and boots will keep your extremities from freezing. A thermal hat or hood can also make a difference, especially when that cold wind starts to blow.
Take Safety Measures: Safety is paramount when you winter paddle board. Check local regulations, as some areas may be off-limits due to ice conditions or wildlife considerations. Keep an eye on the weather forecast because winter's nature can be unpredictable. You don't want to be caught on the water when a storm blows in.
Check for Ice: Ice can form quickly in cold temperatures, and getting trapped is dangerous. Always check the ice conditions before heading out, and avoid areas where ice is forming.
Consider Tours: Consider a guided winter SUP tour if you're new or are unfamiliar with the local conditions. Experienced guides can provide valuable insights into safe routes, weather patterns, and ice conditions. Plus, they'll offer valuable advice and on-the-spot assistance if you need.
Take It Slow: Winter paddle boarding isn't a race. Think of it as a journey. Take your time to enjoy the serene beauty of the landscape, and take breaks when necessary. A thermos of hot cocoa on the shore can work wonders in warding off the cold.
Lastly, always tell someone where you're going and when you expect to return. Better yet, bring a buddy along. Not only can you two share the breathtaking winter scenery, but someone will also have your back.
⇒ Maybe you'll be interested in: Winter Paddling Tips
Pack Your Gear and Hit the Waves
For those interested in paddle boarding, Ontario offers stunning locations as diverse as they are beautiful. Get on an iROCKER SUP and make waves in Ontario's enchanting waterways.