Paddle Board Saskatoon: A Comprehensive Guide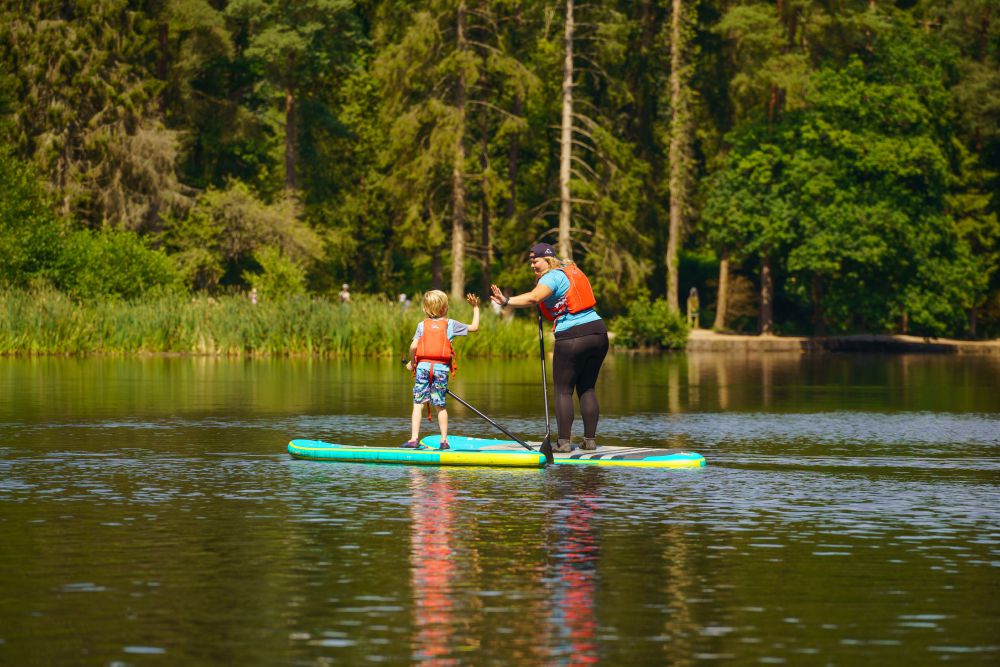 Get ready for an exhilarating journey with paddle boarding in Saskatoon! This recreational activity is more than just a way to have fun - it's an immersive experience that allows you to connect with nature and explore the stunning waterways. Embark on an unforgettable adventure and let the beauty of nature inspire you!
Can You Paddle Board on The Saskatoon River?
Yes, the Saskatoon River offers an ideal setting for paddle boarding. With its calm waters and scenic beauty, you can paddle board on the Saskatoon River, but you should take some precautions and follow some tips. Here are some points to consider:
Life Jacket: Always wear a life jacket, especially near the unpredictable weir.
Check Flow Rate: Monitor river flow rates on Saskatoon Canoe Club or government websites.
Paddle Upstream: Begin by paddling against the current for a safer experience.
Select Launch Points: Choose convenient starting and ending locations like Gabriel Dumont Park, Rotary Park, or Beaver Creek.
Join Groups: Enhance safety and enjoyment by joining local paddle boarding Saskatoon groups via Meetup or Facebook.
Top 7 Paddle Boarding Spots in Saskatoon
Now, let's dive into the top paddle boarding spots in and around Saskatoon. These destinations offer a range of experiences for paddle board enthusiasts, from tranquil waters to scenic city paddles.
1. The South Saskatchewan River
The South Saskatchewan River offers a calm, rapid-free waterway suitable for all levels. A popular route is from Saskatoon to Warman, a 25-kilometer stretch of river that takes about 4-5 hours to paddle. The river is accessible from various points in the city, including Victoria Park, Poplar Bluffs Conservation Area, and Rotary Park. The river offers a calm and serene paddle with scenic city views.
Launch points: Victoria Park, Poplar Bluffs Conservation Area, and Rotary Park.
Location: The river runs through the heart of Saskatoon and offers a calm and serene paddle with scenic city views.
Type of water: Calm.
2. Pike Lake
Pike Lake is a great day-trip destination for a canoeing adventure or a weekend getaway for those who enjoy camping. The lake is an oxbow - a u-shaped lake formed when a part of a river is cut off - created by the South Saskatchewan River. The lake is long and narrow, making it perfect for paddling, boasting serene waters and picturesque natural surroundings, and exploring the shorelines as well as the lily pads. If you're lucky, you might spot some beavers, turtles, and plenty of birdlife.
Launch point: Pike Lake Provincial Park.
Location: 20 minutes south of Saskatoon on Valley Road
Type of water: Calm.
Note: Admission is $11 a day per vehicle or $82 for an annual Sask Parks pass.
3. Wascana Lake
Nestled in the heart of Regina, Wascana Lake offers paddling opportunities within the city. While not suitable for swimming due to low water levels and dense vegetation, it is a delightful spot to observe waterfowl and enjoy a peaceful paddle.
Launch point: Wascana Centre.
Location: In Regina, Wascana Lake is a popular spot for paddle boarding. The lake is surrounded by beautiful scenery and offers a peaceful paddle.
Type of water: Calm.
4. Meewasin Valley
The expansive Meewasin Valley boasts an extensive network of trails covering 105 kilometers across 67 square kilometers of terrain. It offers year-round recreational activities and exceptional sightseeing opportunities in Saskatoon and its surrounding areas.
Launch points: Victoria Park and Poplar Bluffs Conservation Area.
Location: The Meewasin Valley Trail runs along the South Saskatchewan River and offers stunning views of the river and the city.
Type of water: Calm.
5. Chief Whitecap Waterway
The Chief Whitecap Waterway, a water-based segment of the Trans Canada Trail, extends from the Gardiner Dam at Lake Diefenbaker to Saskatoon in Saskatchewan. This route is particularly well-suited for those new to paddling in moving water, as it follows an easily navigable section of the South Saskatchewan River.
Launch point: Chief Whitecap Waterway Provincial Park.
Location: Located south of Saskatoon, Chief Whitecap Waterway is a 50-kilometer route that takes you through some of Saskatchewan's most beautiful scenery. The waterway offers a mix of calm waters and rapids, making it perfect for beginners and experienced paddlers.
Type of water: Calm waters. However, some areas have rapids. Be cautious and equip yourself accordingly.
6. Cranberry Flats Conservation Area
Located just beyond Saskatoon's city limits, Cranberry Flats Conservation Area is a picturesque natural reserve adorned with expansive sandy beaches. While not explicitly designated for paddle boarding, its proximity to the South Saskatchewan River renders it a promising starting point for paddle boarding adventures.
Launch point: Cranberry Flats Conservation Area.
Location: Located on the west side of Saskatoon, the Cranberry Flats Conservation Area offers a peaceful paddle with scenic river views.
Type of water: Calm.
7. Saskatoon Island Provincial Park
The provincial park situated along the shores of Saskatoon Lake offers a range of water-based recreational activities, despite not being directly within Saskatoon. The park's location beside the lake makes it a great potential spot for paddle boarding.
Launch point: Saskatoon Island Provincial Park.
Location: Located north of Grande Prairie, Alberta, Saskatoon Island Provincial Park. The park has several lakes that are perfect for paddling.
Type of water: Calm
Best Time of Year for Paddle Boarding in Saskatoon?
Saskatoon offers a fantastic paddle boarding season from spring to fall. However, the ideal time for paddle boarding is during the summer months in Canada, from June to August when the weather is warm, and the water levels are usually perfect for this activity.
Note: However, it's important to note that water temperatures can still be quite cold even during the summer months, so it's recommended to wear a wetsuit or dry suit.
Wildlife and Scenic Views in Saskatoon
Saskatoon and Saskatchewan are blessed with an array of stunning lakes and rivers, providing ample opportunities for exploration. These bodies of water are nestled amidst lush landscapes and urban skylines, offering breathtaking views. Paddle boarding on these waters might lead to encounters with local wildlife, such as beavers, turtles, and birds. The lakes, characterized by their long and narrow shape, are ideal for paddling and shoreline exploration.
Two popular destinations for leisure paddling include Cypress Hills Interprovincial Park and Moose Mountain Provincial Park. These parks feature beautiful lakes where motorized boats are prohibited, ensuring a calm and serene paddling experience.
Saskatoon is a haven for wildlife, home to creatures like beavers, turtles, and numerous bird species. For those seeking scenic viewpoints in Saskatoon, Rotary Park offers a splendid view of the city's skyline. Another notable location is Wanuskewin Heritage Park, which showcases prairie landscapes filled with grasses and bushes. Evidence of wildlife, such as herons and chipmunks, can also be found here.
Local Paddle Boarding Community in Saskatoon
Saskatoon is home to a lively and hospitable paddle boarding community. There is a plethora of paddling adventures to embark on, including canoeing at Pike Lake, paddle boarding from Poplar Bluffs to Saskatoon on the South Saskatchewan River, kayaking along the Chief Whitecap Waterway, or canoeing the North Saskatchewan River from Borden Bridge to Petrofka Bridge.
Becoming a part of the dynamic paddle boarding community in Saskatoon is a wonderful opportunity to exchange insights, receive advice, and form enduring bonds with other enthusiasts.
Paddling time!
Finally, paddle board Saskatoon is a thrilling, picturesque experience that promises adventure and serenity. This is a unique way to explore the city's beautiful waterways. With an active community and numerous scenic routes to explore, paddle boarding in Saskatoon is an experience not to be missed. To get more helpful information, visit iROCKER. So, grab your paddle board and happy paddling!