Doggy Paddle: A Guide to Paddle Board with Your Dog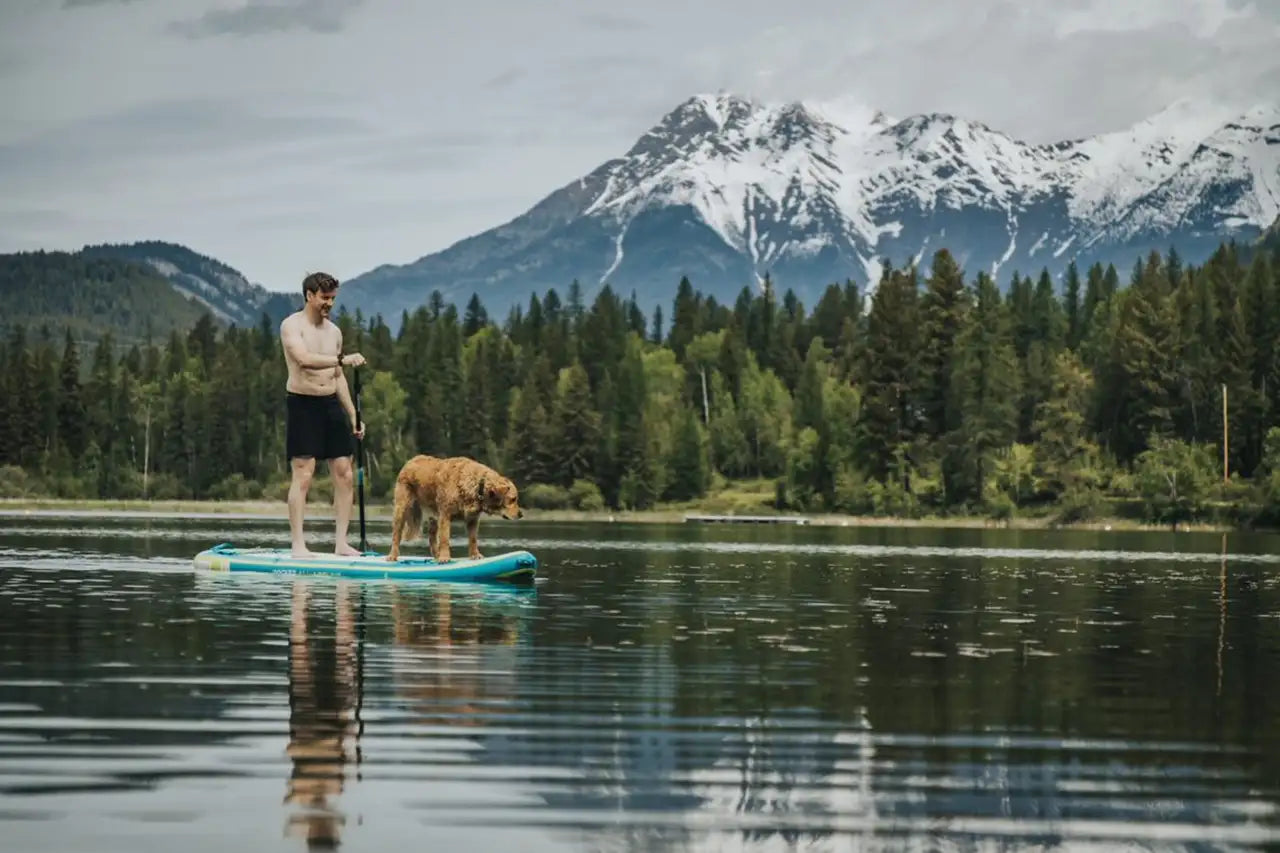 Embrace the outdoors with your furry pal by paddle boarding together! This guide covers why paddle boarding with your dog is a must-try, selecting the ideal board, and planning a memorable adventure. Dive in and get set for a thrilling paddle board experience with your dog.
Why Should You Try Paddle Boarding With Your Furry Friend
Paddle boarding with your pup brings endless fun, strengthening your bond while creating lasting memories. It's a fantastic way to stay fit and healthy together while exploring new places and soaking up the tranquil vibes of the water. And what is the number one essential for an unforgettable paddle boarding escapade with your dog?
Choosing the Right Paddle Board!
Choosing the perfect paddle board for you and your four-legged buddy is a breeze! Focus on width and stability to guarantee a secure and enjoyable ride for both you and your tail-wagging friend.
BLACKFIN MODEL XL
Introducing the BLACKFIN MODEL XL, a luxurious paddleboard designed to accommodate you, your partner, and your pal. With an impressive weight limit of 485 lbs., this premium board features triple-layer PVC construction, built-in carbon rail, and reinforced seams for remarkable resilience. The package includes a 3-piece carbon-shaft paddle, triple-action hand pump, leash, and 3 flip lock fins.
iROCKER CRUISER 10'6
Experience the unparalleled stability of the iROCKER CRUISER 10'6, crafted with a wide tail and extra-wide base to comfortably fit your family. It's made with triple-layer, military-grade PVC and a drop-stitch core that ensures a smooth and steady ride. The package comes complete with a 3-piece carbon-matte paddle, triple-action hand pump, 3 flip lock fins and leash.
BLACKFIN MODEL X
The BLACKFIN MODEL X is designed for those seeking a refined paddling adventure. Constructed with the same premium materials, including triple-layer PVC, built-in carbon rail, and reinforced seams, this board offers a comfortable space for all riders. The package features a 3-piece paddle with a carbon shaft, triple-action hand pump, and 3 flip lock fins.
iROCKER CRUISER ULTRA™
The iROCKER CRUISER ULTRA™ presents a delightful and reliable option for you and your companion. Its compact design and cross-thread, drop-stitch construction ensure a tranquil and enjoyable ride. The board comes with a lightweight carbon paddle, an electric pump, leash, and tethered flip lock fins.
Planning Your Paddle Boarding Adventure
Choosing The Perfect Location
Embarking on a dog paddle board adventure? Pick a serene, dog-friendly spot with minimal boat traffic, waves, and currents for an enjoyable experience. Don't forget to check local regulations and secure any required permits before setting off.
Safety Equipment For Your Dog
Your pup's safety is paramount during your paddle boarding escapade! Invest in a dog-specific personal flotation device (PFD) to give your furry friend extra buoyancy and make swimming easier if they take an unexpected dip.
Paddle Boarding Techniques For Smooth Dog Handling
Master the art of paddle boarding with your dog! Start by practicing basic techniques and finding your balance on the board alongside your pooch. Train your dog to sit or lie down on the board, rewarding them with treats for a job well done. Begin in shallow waters, gradually venturing into deeper areas as you and your pup gain confidence in your paddle boarding skills.
Paddle Board Ahoy!
Paddle boarding with your dog is a fantastic way to forge unbreakable bonds and craft cherished memories while exploring nature's beauty. So, gear up, grab your furry friend, and hop on your iROCKER paddle board for an exhilarating paddle board adventure – fun times await!