Paddle Board Edmonton: 15 Spots You Can't Miss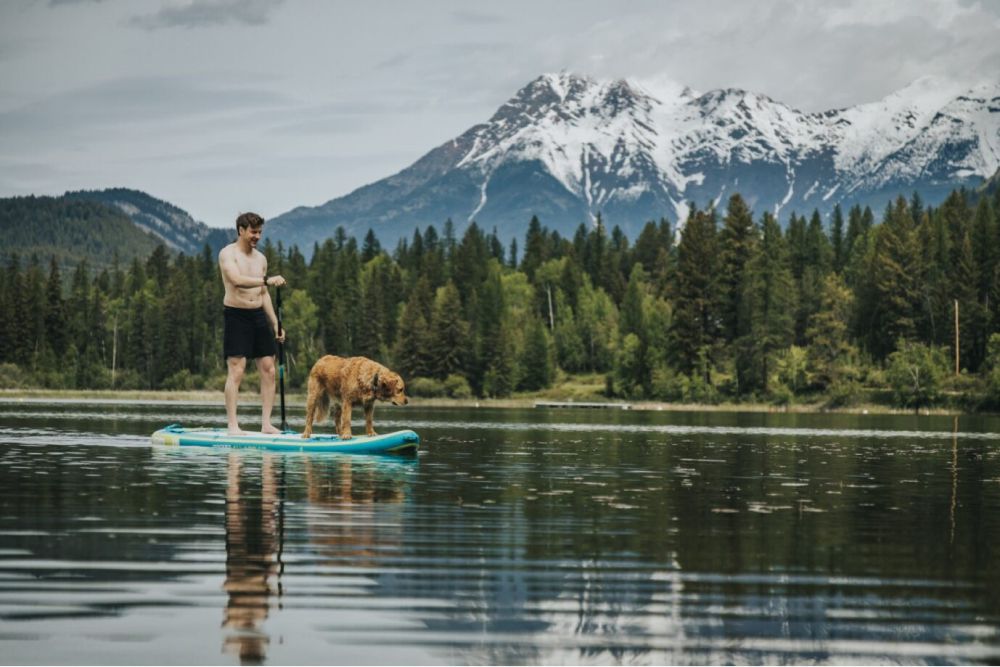 In the heart of Alberta lies Edmonton, a vibrant city that seamlessly marries the thrill of urban life with the serenity of nature. For those keenly seeking an exquisite paddle boarding adventure, with paddle board Edmonton as your mantra, explore the rich tapestry of locations ideal for experiencing the city's tranquil waters and breathtaking panoramas.
Whether you're just dipping your toes into the world of paddle boarding or have carved many waves, Edmonton promises unparalleled experiences. Dive into this meticulous guide, where we disclose the top 15 spots, ensuring your next aquatic journey in Edmonton is nothing short of spectacular.
15 Places to Stand Up Paddle Board in Edmonton
Diving into the guide to Edmonton to discover the top 15 stand up paddle board Edmonton destinations that this vibrant city offers, ensuring a memorable experience for every paddler.
Central Edmonton
Nestled at the city's heart, Central Edmonton's parks provide a quick retreat for paddle boarding enthusiasts. These are the must-visit spots for a rejuvenating session amidst nature.
Hawrelak Park
A mere 20-minute drive from downtown, open from 5:00 AM to 10:00 PM, offering flexible hours for early risers and sunset lovers. Its waters mirror the sky, providing an impeccable setting for Edmonton stand up paddle board moments.
Rundle Park
Within a breezy 25-minute drive, Rundle Park unfolds with a tranquil pond. It's a delightful spot, perfectly suited for those eager to glide on calm waters. Paddle boarders can drop in anytime from 6:00 AM to 9:00 PM.
Hermitage Park
Just 30 minutes from the city's heart, Hermitage Park paints a diverse yet serene backdrop for paddle boarding. Whether you're a novice or a pro, its welcoming waters are open from 5:00 AM to 11:00 PM. The main pond is a short walk from the parking area, where you can launch from a dock or directly from the shore with your SUP.
North Edmonton
Embark on a paddle boarding journey in North Edmonton where the tranquil waters await both beginners and expert paddle boarders.
Sandy Lake
Set just 40 minutes away from Edmonton's bustling center, Sandy Lake boasts tranquil, mirror-like waters ideal for those stand-up paddle board enthusiasts looking for a serene escape. Open from 6 AM to 9 PM, it's an idyllic spot where paddlers can immerse themselves in the beauty of nature while enjoying a day of leisure or fitness.
Pinehurst Lake
A mere 45-minute drive will land you at the breathtaking Pinehurst Lake. Surrounded by scenic landscapes and the echoing sounds of chirping birds, this lake ensures an unforgettable experience for every visitor. Open daily from 5:30 AM to 8:30 PM, it offers ample time to soak in the serene vibes.
Paddle Board Park
For those looking for a specialized paddle boarding experience, make a swift 30-minute journey to Paddle Board Park. Known for its placid waters and specialized zones for paddle boarders of different skill levels, it's an optimum location to refine your skills or simply enjoy the water. Operating hours are from 7 AM to 7 PM, allowing enthusiasts ample daylight to paddle to their heart's content.
South Edmonton
The southern realm of Edmonton is a treasure trove for those passionate about the unique experiences offered by inflatable paddle boards.
Telford Lake
Named after Robert Taylor Telford, founder of the City of Leduc and a significant figure in Alberta's history, Telford Lake awaits you in just a brief 30-minute drive from the city's hustle and bustle. Open from 6 AM to 10 PM, it promises a serene paddle boarding experience amidst rich historical significance.
Pigeon Lake
Located approximately an hour away, Pigeon Lake is an embodiment of nature's grandeur, offering clear waters and landmarks such as the sought-after Ma-Me-O Beach. Always open to visitors, its expanse covers an impressive 96.7 square kilometres, ensuring ample space for everyone to explore.
Gull Lake
Situated about 90 minutes from Edmonton, Gull Lake is a paradise for water sports lovers. It's a dream spot for paddle boarding, boasting crystal-clear waters, sandy shores, and a vista of lush hills and thick woodlands. You can enjoy its splendor from 6:00 AM to 10:00 PM, making the most of your paddle boarding moments.
East Edmonton
Let's explore these jewels in East Edmonton that promise an unparalleled paddle boarding experience.
Elk Island National Park
Just 35 minutes away from Edmonton's vibrant streets, Astotin Lake inside Elk Island National Park beckons. A sanctuary free from motorized boats, it offers paddle boarders an undisturbed environment to bask in the beauty of nature. Open from 8:00 AM to 9:00 PM, this lake, set within a dark sky preserve, adds a touch of stargazing magic to your paddling adventures.
Miquelon Lake Provincial Park
A scenic hour's drive from the city, renowned for its soft waves and a generally less windy atmosphere, it promises a soothing experience for stand-up paddle boarders. Although open the gate from 6:00 AM to 10:00 PM, visitors should stay alert for any water advisories.
Black Nugget Lake
A short 45-minute drive from Edmonton leads you to this crafted beauty, a haven for nature seekers. Apart from the joy of paddle boarding, it is home to rich birdlife and offers excellent fishing opportunities. Open to visitors from 8:30 AM to 5:00 PM, it provides an intimate setting for those looking to immerse themselves in nature's lap while enjoying their paddle boarding endeavours.
West Edmonton
Venture west of Edmonton, and you'll discover picturesque locations that seem to have been made for paddle boarding enthusiasts.
Lac Ste. Anne
Merely an hour's drive away, the expansive Lac Ste. Anne greets visitors with panoramic vistas that transform every paddle boarding venture into a cherished memory. It welcomes enthusiasts from 6:00 AM to 10:00 PM.
Wabamun Lake
As the largest lake in the vicinity, located just an hour from Edmonton, Wabamun Lake offers a siren call to those bewitched by paddle boarding's magic. Its majestic waters, open from 6:00 AM to 10:00 PM, promise a myriad of experiences for both beginners and seasoned boarders.
Chickakoo Lake
Nestled 40 minutes from Edmonton, Chickakoo Lake is a haven in Parkland County. Reflecting nature's untouched beauty, it opens from 5:30 AM to 9:30 PM, which is an ideal spot for early birds or those wishing to catch the sunset's glow.
West of Edmonton lies a trove of lakes and waterways, each more inviting than the last. For paddle boarding enthusiasts and nature lovers alike, this region offers an array of picturesque spots waiting to be explored and cherished.
Local Paddle Board Classes and Lessons
The pulse of paddle boarding in Edmonton beats strongly with various institutions, clubs, and passionate individuals. Here's a closer look at a couple of dynamic platforms to ignite your passion:
Aquabatics: A beacon of excellence in Edmonton's paddle boarding community, Aquabatics masterfully bridges the gap between beginners and professionals. Their standout courses, ranging from foundational lessons to advanced training for dealing with stronger currents, are created with precision and passion.
Move.Learn.Play: Embodying the City of Edmonton's commitment to promoting recreational activities, Move.Learn.Play connects enthusiasts to paddle boarding courses and more. This portal provides easy access to various programs for beginners and experts alike. There's something for all.
Chad Has A Paddle: Run by certified SUP instructor Chad, this place offers a diverse range of lessons, adapting to the unique needs of every learner, from novices to experts. The insights also extend to recommending the best paddle spots in Edmonton, ensuring that every session is educational and scenically rewarding.
The vast beauty of Edmonton's waters beckons, inviting both the seasoned paddler and the curious beginner. Let every stroke be inspired by the passion for exploration and the spirit of adventure. And as you embark on this remarkable journey, remember to gear up with the unparalleled inflatable paddle boards that iROCKER offers.
Because in the world of paddle board Edmonton, it's not just about the destination, but the journey and the memories we make. Let the waters inspire you, and may iROCKER be your steadfast companion. Answer the call with us, and let your paddle boarding story begin today!
FAQs
Are there any paddle boarding events or competitions in Edmonton?
Absolutely! The Sandy Beach Paddle Fest and the Alberta SUP Cup are notable events that gather enthusiasts for a day filled with races, camaraderie, and sheer joy.
Are there any restrictions or permits required to paddle board on Edmonton's waterways?
Yes! Some water bodies have specific rules. Always wear lifejackets or PFDs, avoid paddle boarding under the influence of alcohol, and stay cautious near motorized boats. For updates, consult local authorities like the City of Edmonton or Parks Canada.
Best times of the year for paddle boarding in Edmonton?
The best times for paddle boarding Edmonton are during the warmer months, from late May to early September. This window sees a bustling scene of group activities, available rentals, and engaging lessons. With temperatures between 15°C to 25°C (59°F to 77°F) and longer daylight durations, it's an ideal time. The waters, devoid of ice, ensure safer paddle boarding, and by July and August, you can expect water temperatures around a comfortable 18°C (64°F).