Best Paddle Board Deals 2023: Hard and Inflatable SUPs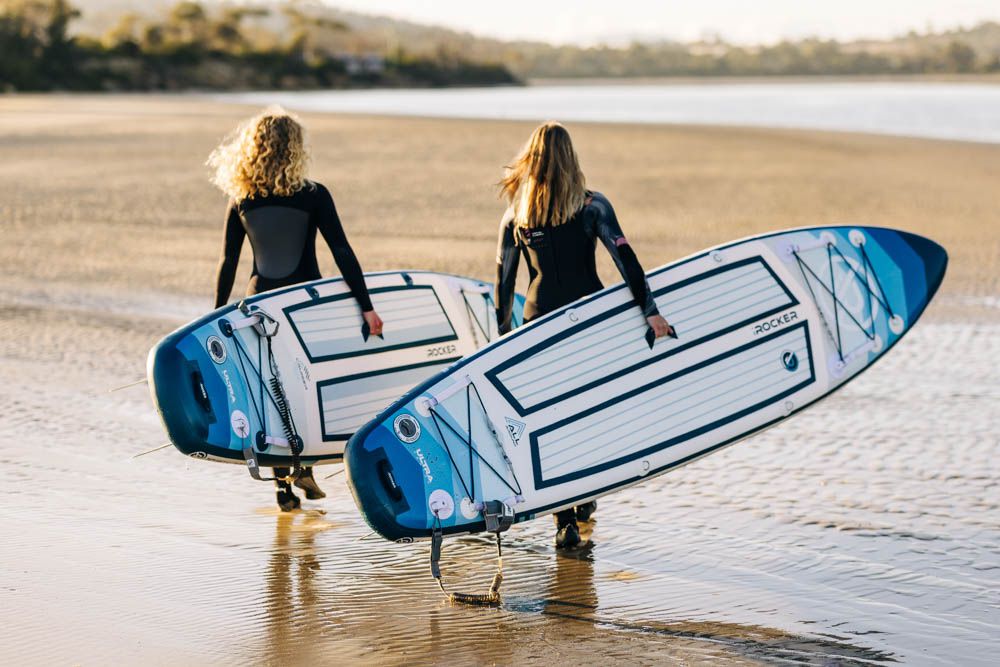 Attention all travel and water-sport enthusiasts! Dive headfirst into the world of paddle boarding with our thorough list of the finest deals this year. If you're passionate about embarking on a journey across waters, these paddle board deals are made just for you. Get ready for fun times on the water with these awesome finds in 2023!
BLACKFIN MODEL SX 10'6" Hard Paddle Board
Meet the BLACKFIN MODEL SX 10'6" Hard Paddle Board—your next must-have for thrilling water journeys. Precision-engineered, it ensures a blend of top-tier performance and adaptability for intermediate paddle enthusiasts. Spanning 10'6", this board guarantees a steady and fluid ride, regardless of water conditions. This is the best paddle board deal at a special price starting at CAD$1,600.
Superior Riding Experience: Thanks to the 10'6" length, the board ensures stability even in unpredictable waters, complemented by its design tailored for maximum speed.
Unmatched Performance: Its unique build and features promise a smooth ride, allowing for swift paddling and unmatched stability. Glide seamlessly with the assurance of a board built for performance.
Loaded with Features: Your acquisition is more than just a board. It comes packed with:

Dual cargo bungee areas for ample storage
An ultra-comfortable deck pad to ensure prolonged sessions without discomfort
A strategically placed center handle for easy maneuvering
A built-in dry box console, for storing gear or for use as a cooler
Kayak seat clips allow for easy conversion to a kayak
Rooted in BLACKFIN's legacy since 2013, the emphasis on quality, durability, and safety remains unwavering.
With iROCKER's local fulfillment, you can choose fast 1-2 day delivery or opt for local pick-up if you're in Vancouver or Toronto. This deal ensures that your passion for paddle boarding gets a timely boost. Enjoy the water with BLACKFIN.
NAUTICAL GO TEN-SIX
Step onto the NAUTICAL GO TEN-SIX inflatable paddle board—a prime choice for those seeking affordable and exhilarating adventures on the water. Carefully crafted, this board balances performance and adaptability, making it a comfortable fit for beginners and those still getting their sea legs.
Stretching out to 10'6", it promises a stable and smooth ride. Priced attractively starting at around CAD$550, this is an invitation to endless fun-filled water escapades.
Exceptional Riding Experience: With its 10'6" size, expect consistent stability, even when the waters get a bit challenging, enhanced by a design that prioritizes swift glides.
Performance: The board's construction and features are made for optimal rides, ensuring agility in paddling and unparalleled balance. Every ride promises the smooth experience of a board crafted for excellence.
Features: Your purchase isn't just about the board. It boasts of:

Front cargo bungee area for convenient storage
A plush deck pad to maximize comfort
A center handle, smartly positioned for effortless carrying
Kayak seat clips allow for easy conversion to a kayak
Holding true to NAUTICAL's commitment since its inception, this board emphasizes top-notch quality, enduring durability, and the utmost safety.
NAUTICAL GO CRUISER 10'6
Embark on a journey with the NAUTICAL GO CRUISER 10'6—distinctly wider and more stable than the NAUTICAL GO TEN-SIX; it's designed for those who crave cruising adventures. With a generous 34"/86cm width, this inflatable paddle board ensures unmatched stability on the water, making it ideal for beginners. Beyond its impressive on-water performance, the NAUTICAL GO CRUISER's streamlined design facilitates convenient storage when not in use, ensuring you're ever-ready for an affordable adventure, no matter where you are.
Measuring a substantial 10'6", it guarantees stability and fluidity on every ride. With a compelling price range starting at around CAD$550, it beckons you to infinite aquatic adventures.
Riding Experience: Its impressive 10'6" stature promises stability, even on those challenging water days, underpinned by a design that's all about smooth and swift glides.
Peak Performance: Every element of the board's design strikes a balance between agile paddling and stability.
Feature-packed: But this purchase is about more than just the board. It promises:

Front cargo bungee area, ensuring all your essentials are within arm's reach
An ultra-comfortable deck pad, making long rides a breeze
A strategically positioned center handle, making transportation effortless
And for those looking to mix things up, kayak seat clips allow for easy conversion to a kayak
Since its birth, NAUTICAL has continuously set industry standards based on the pillars of quality, durability, and safety. With NAUTICAL GO CRUISER 10'6", this legacy of excellence continues.
BLACKFIN MODEL X 10'6"
Step into the world of water adventure with the BLACKFIN MODEL X, the adventurer's choice for those who crave adventure; a bit of wind or cooler temperatures never deters. Whether it's fishing, cruising, or just reveling in nature that you enjoy, the BLACKFIN MODEL X delivers with triple-layer PVC construction, reinforced seams, and added carbon rail.
Spanning 10'6"/3.2m, the board is all about stable and smooth experiences. Offered at an attractive price range starting at CAD$999, it's an open invitation to the adventure without breaking the bank.
A Stable Experience: With a focus on stability, beginners can expect a reliable and steady ride even when the waters become challenging.
Performance: Designed for serious riders, the board promises unmatched stability, making every ride a delight.
Feature-rich: Your purchase comes packed with:

1 X 10'6"/3.2m BLACKFIN MODEL X board
3 removable flip lock fins (1 center and 2 side fins)
A repair kit (patches and valve wrench; glue is sold separately)
Each BLACKFIN package contains the foundational essentials: the board, fins, and a repair kit. Elevate your paddling experience by opting for premium additions such as the iROCKER Electric Pump or the Premium 2-Piece Carbon Paddle and Bag. The Double Chamber Hand Pump offers a perfect pre-ride boost for those seeking an energizing start. Moreover, when you bundle these accessories with your board purchase, you'll save up to 25%.
CRUISER 10'6" ULTRA™ 2.0
Dive into a premium paddling experience with the CRUISER 10'6" ULTRA™ 2.0. Priced at around CAD$1,199, this board stands as the epitome of quality, innovation, and performance.
Your Perfect Paddle Partner: Designed to cater to beginners, the board ensures stability and speed, allowing you to ride with confidence.
Versatility at Its Best: This board accommodates up to 2 riders with a weight capacity of 300 lbs., perfect for beginners, SUP yogis, families with children, and intermediate paddlers who prefer slower ride.
Essentials in the Box: Your CRUISER ULTRA™ 2.0 comes equipped with:

A new enhanced backpack for easy transport
An adjustable 5-piece paddle for a customized ride
A 10'/3m coil leash with a nifty key stash spot
Two tethered flip lock fins for smooth gliding
A 12V electric pump paired with an accessory pouch for convenience

Bundle & Save: Enhance the adventure and save big when you bundle a kayak blade, a water-resistant lunch box cooler, and a portable battery to your cart.
Why ULTRA™?
ULTRA™ offers our lightest and most travel-centric paddle boards yet. These boards offer enhanced rigidity and groundbreaking tech, all fitting into a backpack nearly 50% smaller than our previous models. Experience the blend of convenience and performance with ULTRA™.
BLACKFIN MODEL V 12'6"
Experience our fastest board with the BLACKFIN MODEL V. Offering smooth tracking and fast efficient paddling, this board is designed for speed seekers and endurance athletes who are touring and paddling long distances, or those looking for more of a challenge out on the water.
Key Highlights:
Crafted for Speed: At 12'6"/3.8m in length and 32"/81cm in width, this is our most extended and streamlined SUP. It's best suited for advanced paddlers and those over 5'7"/1.7m.
Versatility: Ideal for tandem rides, it's the board of choice for touring, fishing, camping, and full-day adventures. It can accommodate up to two kayak seats.
Performance: Experience the thrill of speed and challenge with a design focused on efficient paddling and seamless tracking.
Quality Assurance: Dive in with confidence, backed by a 2-year general manufacturer warranty, 3 years on seams, and 1 year for accessories.
Why BLACKFIN MODEL V?
If you're the kind who measures each journey by pace and thrill, then the BLACKFIN MODEL V is your calling. Beyond just a board, it embodies the spirit of competition, challenge, and speed. It promises an unrivaled blend of performance and durability, built with enhanced construction, triple-layer PVC, and reinforced seams.
BLACKFIN MODEL XL 11'6"
For adventurers who value reliability and the thrill of discovery, the BLACKFIN MODEL XL is your go-to board. Experience the most stable SUP out of the entire lineup. A 34"/86cm width and a narrow tail make this SUP the most stable board on the market and with an included carbon rail that adds stiffness and rigidity to this premium board.
Key Highlights:
Engineered for Excellence: With its 11'6"/3.5m length, this board promises unmatched speed, stability, and performance tailored for intermediate riders.
Versatility at its Best: Perfect for tandem rides, the BLACKFIN MODEL XL can accommodate multiple riders, pets, or kayak seats. It's an invitation to family fun, fishing, yoga, camping, and all-day excursions.
Trusted Performance: As a premium board, it beautifully balances both speed and stability, ensuring a ride that's both exhilarating and safe.
Designed for All Waters: Whether you're paddling on lakes, oceans, or rivers, it's equipped for both salt and freshwater adventures.
Inside Your Package:
BLACKFIN MODEL XL SUP: At 11'6", this board is the perfect companion for your water exploits
Flip Lock Fins: Includes 3 removable fins (1 center and 2 sides) to aid in maneuverability and stability
Repair Kit: Be prepared for anything with patches, a valve wrench, and more
Extra Tip: BLACKFIN has more accessories up for grabs. Bundle with your board for up to 25% off! Whether it's the iROCKER Electric Pump or the all-new BLACKFIN Premium 2-Piece Carbon Paddle and Bag, you can enhance your paddling experience.
How to Get These Paddle Board Deals?
A little strategy goes a long way when it comes to catching the best deals on stand-up paddle boards and accessories. Here are some proven tips to ensure you get the most bang for your buck:
Research Beforehand: Before big sale events, do your homework. Know the products you want and their regular prices to recognize a genuinely good deal.
Subscribe to Newsletters: Often, companies offer exclusive discounts to their email subscribers. Sign up for newsletters from your favorite brands to get these exclusive offers.
Follow on Social Media: Brands sometimes announce flash sales or special discounts on their social media channels.
Set a Budget: It's easy to get carried away during sales. Set a budget for yourself to ensure you're spending within your means.
Check Reviews: A deal is only a good deal if the product is right for you. Always check reviews and ensure the product fits your needs.
Shop Early: The best deals often run out quickly. Try to shop as soon as the sale starts to get the best selection.
Use Price Tracking Tools: Websites and apps that track price drops can alert you when a product goes on sale.
Engage in Loyalty Programs: Some brands offer loyalty points or discounts to repeat customers. It might be worth sticking to a particular brand if they reward loyalty.
How to Get These Paddle Board Deals From iROCKER?
Brace yourselves, because Paddle Board Black Friday deals are the moments you absolutely can't afford to let slip through your fingers. And if that's not enough, our Open Box & Used Board Sale is your golden ticket to paddle board deals at a fraction of the original cost. Rest assured, these items, though gently pre-loved or open-box, still meet our impeccable quality standards. So, seize the moment and don't let these timely opportunities pass you by!
Ready to Get Your Board?
The allure of paddle boarding is undeniable – the feel of water beneath you, the thrill of gliding effortlessly over serene waters, and the sense of freedom it brings. But just as exhilarating is finding that perfect board deal that doesn't strain your wallet. Whether you're looking to embark on your first paddle boarding adventure or upgrade to a board that can match your evolved skills, this is the destination for the best deals.
Our Black Friday Deal is our biggest sale of the year, offering a range of boards at unbeatable prices, ensuring you get nothing but the best.
So, don't let this opportunity slide by. Dive into a world of fantastic sale paddle board deals; the waters are calling.